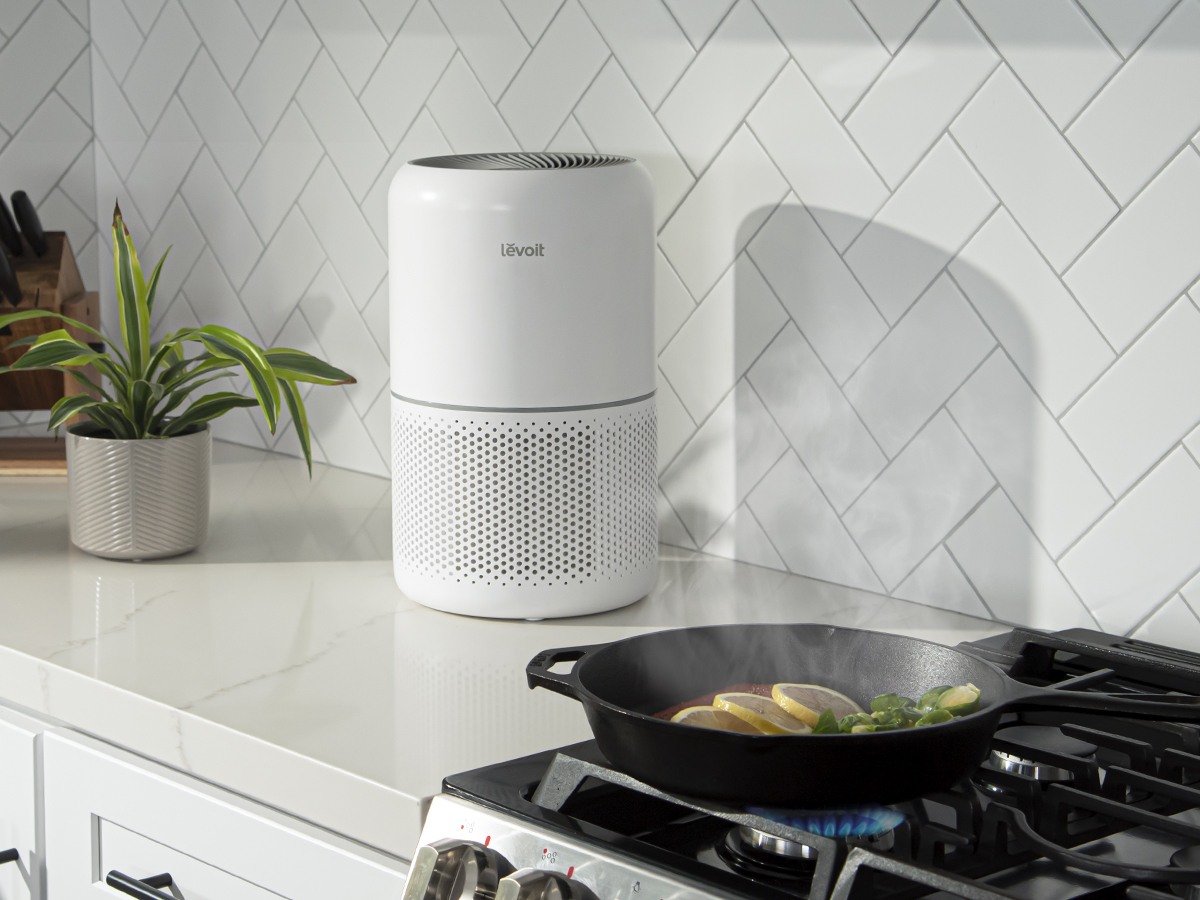 Why Do I Need An Air Purifier?
Learn about air purifiers and how Levoit's HEPASmart™ technology helps clean your indoor air.
Given that indoor air can be up to five times more polluted than the air outside, there's a greater need in finding effective ways to breathe cleaner air in our own homes. Both visible and invisible pollutants, particles, and contaminants found in household activities like cooking and allergens like dust mites, accumulate in the air and can induce or aggravate existing health issues. As we continue to spend most of our time indoors, using an air purifier will help create a cleaner, fresher, and healthier indoor air quality.

How Do Air Purifiers Work?
Air purifiers essentially work by drawing in air through internal fans, moving it through a series of filters, capturing harmful particles, and releasing clean air into your indoor environment. With many air purifiers on the market designed for the same purpose, figuring out which one best fits your needs may get confusing. However, not all do a very good job at absorbing allergens embedded into furniture and eliminating gaseous pollutants like volatile organic compounds (VOCs) from the air. This is why we strongly recommend an air purifier with a True HEPA filter.


left to right: Staphylococcus Aureus, Staphylococcus Albus, and H1N1 Virus; with an elimination and removal rate of no less than 99.99%
What Does "True HEPA" Mean?
HEPA stands for High-Efficiency Particulate Air, which are mechanical filters that trap harmful airborne particles. To be considered a "True HEPA", an air purifier should meet the industry's strict standards and remove 99.97% of particles as small as 0.3 microns with the highest efficiency possible. For a better picture, one micron is equal to 1/25,000th of an inch and the naked eye can only see objects as small as 40 microns!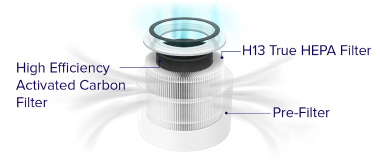 [slick-carousel-slider category="891″ slidestoshow="1″ variablewidth="true" image_fit="true" sliderheight="200″]
What Makes Levoit Air Purifiers Unique?
Levoit True HEPA Air Purifiers have the best price-performance with an attractive design, effective 3-stage filtration system, and zero ozone emission fit for any home or workspace. Not only do these purifiers have a True HEPA Filter, but also an Ultra-Fine Preliminary Filter and a High-Efficiency Activated Carbon Filter that all serve different and significant purposes. Here's a quick breakdown:
The

Fine Preliminary Filter

captures large particles such as dust, lint, fibers, hair, and fur. This filter also protects and maximizes the life of the True HEPA Filter.

The

True HEPA Filter

traps tiny particles such as mold spores, dust particles, smoke, and allergens such as pollen, pet dander, and mites. This helps stop germs in their tracks and prevents the development or aggravation of asthma and other breathing conditions.

The

Activated Carbon Filter

purifies and reduces household odors. VOCs and lingering smells from cooking or smoke are absorbed by this filter so you can always inhale fresh air.

Why Invest in a Levoit True HEPA Air Purifier?
Levoit's mission to always create thoughtfully designed and cost-effective technology helps modern users curate safe, comfortable, and quality environments in any space. Whether or not you have allergies or asthma, breathe in confidence knowing that the air circulating your home and workspace is free of impurities with Levoit True HEPA Air Purifiers.
Breathe Clean Air with Levoit